Surgical Services
State-of-the-art surgical care in a full range of specialties, utilizing the latest surgical techniques.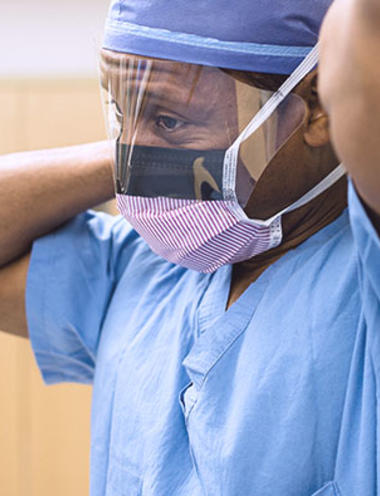 Reference Laboratory
6800 Spyglass Court, Viera, FL 32940
321-255-8020
Learn more about pre-registration, or speak with a pre-registration representative. 
First Class Surgical Technology & Treatments
If you or a loved one needs surgery, you can count on exceptional care from Melbourne Regional Medical Center. You'll find surgeons who are leaders in their specialties and a team of skilled and caring professionals who have access to the latest surgical technology.
We offer a full range of surgical services in almost every medical specialty – everything from general surgery to treat colorectal cancer, gastroesophageal reflux, and hernias to minimally invasive and robotic-assisted surgical options. Services include:
Breast Cancer Surgery:
Surgery is often the primary treatment for breast cancer in order to remove as much of the cancerous tissue as possible. Surgeons are well equipped to perform a range of surgical procedures, including lumpectomy, partial mastectomy, total mastectomy and breast reconstruction.
Colorectal Surgery:
Whenever possible, surgeons use minimally invasive techniques for colorectal conditions, such as laparoscopic and robotic surgery, which offer smaller incisions, less pain and a quicker recovery.
Gynecological Surgery:
We utilize the latest in surgical technology, including minimally invasive techniques using lasers and robotic surgery with the da Vinci® Si™ Surgical System, which offer less pain, smaller scars and a quicker recovery.
Laser Surgery: 
During laser surgery, special light beams are used instead of instruments for surgical procedures, and can offer an alternative to traditional surgery. Laser surgery poses a minimal risk of infection, causes less trauma to tissues, and can offer a quicker recovery.
Orthopedic Surgery:
We use minimally invasive techniques whenever possible, including robotic surgery, and offer a full range of services, including diskectomy, foot and ankle procedures, hand and wrist surgery, knee and hip resurfacing, laminectomy, reconstructive surgery, shoulder surgery, spine surgery, and total replacement of the hip, knee, shoulder and elbow.
Plastic Surgery:
Whether you're interested in laser surgery to minimize wrinkles or age spots, or are considering surgical contouring procedure, we offer some of the latest techniques in cosmetic surgery, including laser skin resurfacing, face lift, eyelid surgery, breast augmentation, reduction or reconstruction, tummy tuck, liposuction, and nose surgery.
Robotic Surgery:
Provides a safe, minimally invasive approach to surgery that allows surgeons to perform complex surgical procedures through small incisions. For patients, robotic surgery offers less pain and scarring, lower risk of infection, shorter hospital stays and quicker recovery.
Urological Surgery:
Our surgeons offer progressive surgical methods to treat urinary tract conditions, using minimally invasive and robot-assisted techniques whenever possible. We treat conditions, including prostate cancer, bladder disorders, kidney stones and pelvic conditions.
Vascular Surgery:
Our surgeons provide treatment for everything from aneurysms and carotid artery blockages, to peripheral vascular and venous diseases using minimally invasive options to address vascular and venous conditions, using lasers, ultrasound, and catheter-based techniques.
Our surgeons are recognized for their expertise in minimally invasive procedures. By using miniature cameras with microscopes, tiny fiber-optic flashlights, and high-definition monitors, surgeons can perform surgery through small incisions that take only a few stitches to close. Smaller incisions result in less blood loss, less pain, and a quicker recovery. We offer:
Arthroscopic surgery
Endovascular techniques (catheter-guided procedures)
Laparoscopic surgery
Laser surgery
Robotic surgery
---
Thanks to new medical advancements, Alexandra's surgery and recovery was positively unlike her mother's
Watching her mom's experience years before had made Alexandra wary of having a hysterectomy. But Dr. Javier Soto assured her it would be different with the Da Vinci® Si™ surgical system – and it was. Following her recent procedure, she had almost no pain, was walking the next day, and was fully recovered within a few weeks. Today, she's even sleeping better and feeling stronger.
"I should have done it two years ago. My life would have been so much happier."
-Alexandra Fermin (patient of Javier Soto, MD, Obstetrics & Gynecology)
Resources
Francisco Ruiz, MD. specializes in gastroenterologic consultation, endoscopy of the upper gastroenterologic tract, treatment/evaluation of hepatitis C and percutaneous endoscopic gastrostomy.