Rehabilitation Services
Comprehensive rehabilitation services that address both the mental and physical aspects of recovery.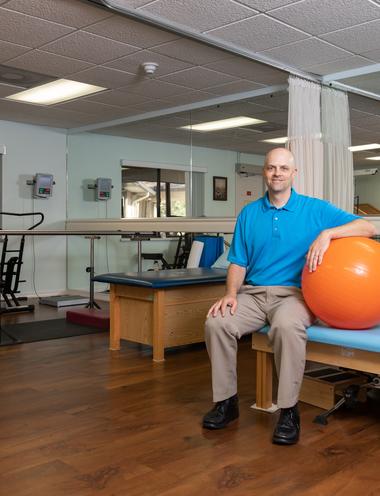 Steward Rehabilitation Services - Melbourne
240 N Wickham Road, Suite 207, Melbourne, FL 32935
321-752-1500
Steward Rehabilitation Services - Suntree
6300 N Wickham Road, Suite 116, Melbourne, FL 32940
321-255-3152
Steward Rehabilitation Services - Merritt Island
2400 N Courtenay Parkway, Meritt Island, FL 32953
321-637-2878
Steward Rehabilitation Services - Rockledge
830 Executive Lane, Suite 130, Rockledge, FL 32955
321-433-0288
Steward Rehabilitation Services - Port St. John
7227 N US Highway 1, Port St. John, FL 32927
321-639-0847
Our Rehabilitation Services is dedicated to helping people rebuild their lives after illness and injury. We believe that recovery encompasses both mind and body, so our comprehensive services address both the mental and physical aspects of rehabilitation. Our rehabilitation team includes knowledgeable, caring professionals who are dedicated to providing quality care and support.
Our team of doctors, nurses and therapists deliver a full spectrum of expert care in a supportive environment. Our talented rehabilitation team is well equipped to provide everything from physical and occupational therapy to a full range of specialized services to assist patients after cancer, heart attack, or brain injury. Services include:
Acute Care: Our hospital is staffed by doctors, nurses and therapists (physical, occupational and speech/language) who provide expert care. Our rehabilitation professionals are dedicated to delivering high-quality treatment.
Outpatient Care: Every individual is different, so we provide a customized recovery plan that addresses the unique needs and abilities of each patient.

Physical therapists provide a customized plan to help build strength and endurance and assist with improving balance and mobility.
Occupational therapists help patients regain strength and endurance to perform daily activities such as bathing, dressing and personal hygiene, as well as home management skills such as preparing meals, doing laundry and other household chores.
Speech and language therapists assist with everything from swallowing difficulties to memory deficits, voice dysfunction and language barriers.
Physical Therapy: Whether you are recovering from a broken bone, muscle injury or surgery, regaining mobility, strength, flexibility and endurance are a key part of your recovery. Every individual has different goals and expectations in recovery, so our rehabilitation specialists provide a customized plan that incorporates the unique goals and abilities of each person.

Specialized Programs for arthritis, cancer, joint replacement, neurological conditions and pulmonary conditions.
What Are Our Patients Saying?
"The physical and occupational therapy is excellent. All providers are knowledgeable, skilled and caring. This is my second time needing their services and while I'm hoping not to get hurt again, I would choose them over all other options if I did. Five stars for them!" - Mary