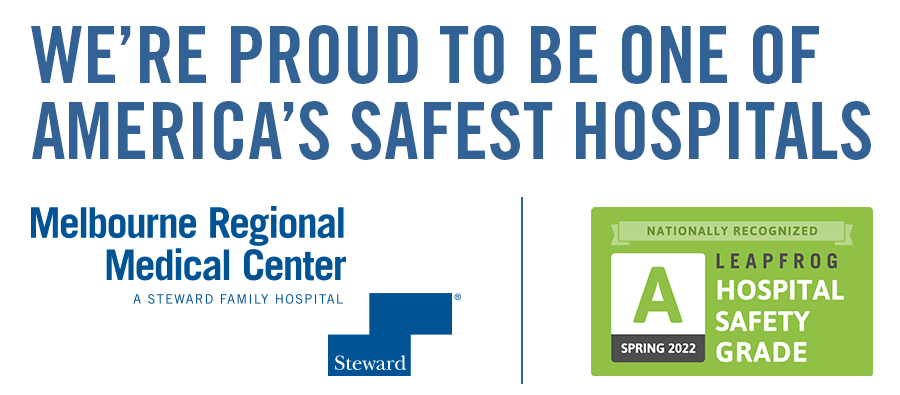 Leapfrog
Melbourne Regional Medical Center is proud to have earned the nation's top distinction for patient safety – a Leapfrog Hospital Safety Grade 'A'. 
At Melbourne Regional Medical Center, it has always been our goal to bring expert care, the latest technology and the finest health care professionals to Melbourne families. Now we are proud to have earned the nation's top distinction for patient safety – a Leapfrog Hospital Safety Grade "A". Which is one more reason your best hospital is also your closest hospital. 
Leapfrog is the nation's most public standard in evaluating a hospital's quality rating. The Leapfrog Hospital Survey is an annual survey that assesses our performance on national measures of safety, quality, and efficiency on both inpatient and outpatient metrics. These measures are of specific interest to our patients, community, and physicians. It is also used to strengthen our relationship with and attract new insurance providers. But most important it reinforces with our local community the great healthcare we provide. 
We strive to be your trusted source of information. To help you begin making informed choices for health care services, we provide the following hospital comparison data.
The methods listed below showcase a hospital's ability to provide quality care for patients. Because each patient is different and outcomes of each case cannot always be predicted, measuring this data can often be difficult. The collection of health care data can also be challenging. As with any major health care decision, it's best to compare as many measurement types as possible to form the most complete picture of a hospital's total quality of care.
Recruiting and retaining competent skilled employees, with staffing to patient ratios to allow for optimal patient experience
Dedicated, specialized medical staff with proven quality outcomes
State of the art diagnostic tools, instrumentation , and equipment
Ongoing performance evaluation and risk assessments to improve processes, workflows, and patient outcomes
Full time Patient Advocate to enhance the patient experience
AHCA – The Agency for Health Care Administration (AHCA) focuses on providing Floridians with access to affordable, quality health care. In addition to performance data, AHCA's website offers information on certain medical conditions and procedures in Florida's short-term acute care hospitals and ambulatory (outpatient) surgery centers. Learn more at www.floridahealthfinder.gov.
The Joint Commission – The Joint Commission on Accreditation of Healthcare Organizations is an independent, not-for-profit organization that evaluates and accredits more than 20,500 health care organizations and programs in the United States. The Joint Commission's quality check website provides meaningful information about the comparative performance of accredited organizations to the public. Learn more at www.qualitycheck.org.
Hospital Compare – Hospital Compare, a service provided by the Centers for Medicare & Medicaid Services (CMS), was created through collaboration with organizations representing consumers, hospitals, doctors, employers, accrediting organizations, and other Federal agencies. Hospital Compare offers consumers information on the quality of care at over 4,000 Medicare-certified hospitals nationwide. Visit the Hospital Compare website at https://www.medicare.gov/hospitalcompare/search.html.
Non-Discrimination
As a recipient of federal financial assistance, Steward Health Care System does not exclude, deny benefits to, or otherwise discriminate against any person on the basis of race, color, national origin, gender, sexual orientation, religion, disability, or age in admission to, participation in, or receipt of services and benefits under any of its programs and activities, whether carried out by Steward Health Care System directly or through a contractor or any other entity with which Steward Health Care arranges to carry out its programs and activities.
The statement is in accordance with the provisions of Title VI of the Civil Rights Act of 1964, Section 504 of the Rehabilitation Act of 1973, the Age Discrimination Act of 1975, and Regulations of the U.S. Department of Health and Human Services issued pursuant to these statutes at Title 45 Code of Federal Regulations Parts 80, 84, and 91.
For questions, please contact:
Steward Health Care
ADA/Section 504 Coordinator
or
800-439-0183 or 711 calling from Massachusetts
(Relay line-operator-assisted support for deaf and hard of hearing)