Steward Health Care Names Christopher Baker, Brian Ackerman and Brandon Kahl Exceptional EMS Providers at "EMS Stewards of the Community" Awards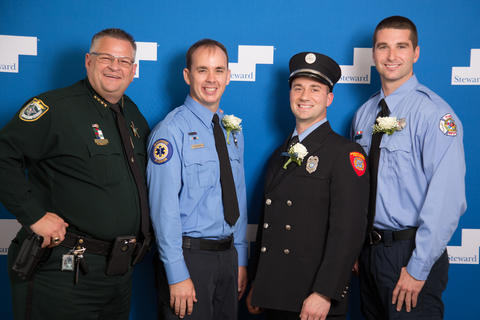 Steward Health Care Names Christopher Baker, Brian Ackerman and Brandon Kahl Exceptional EMS Providers at "EMS Stewards of the Community" Awards
In annual awards ceremony, Steward recognized EMS providers hailing from Brevard County Fire Rescue, Cocoa Fire Department and Indian River Fire and Rescue
Melbourne, Rockledge and Sebastian, FL (May 29, 2018) – In celebration of National Emergency Medical Service (EMS) week, Steward Health Care System held the "EMS Stewards of the Community" Award Ceremony on May 23. Boston-based Steward, operates three hospitals in Florida, Melbourne Regional Medical Center, Rockledge Regional Medical Center and Sebastian River Medical Center. Each hospital recognized an EMS provider for going "above and beyond" in their interactions with their patients. The awards were presented to Brevard County Fire Rescue, Christopher Baker; Cocoa Fire Department, Brian Ackerman; and Indian River County Fire and Rescue, Brandon Kahl.
"EMS providers are unsung heroes on the front lines in the battle against illness and injury," said Brendan Hayden, System Vice President for EMS at Steward Health Care, who attended the ceremony. "We are immensely proud to honor their hard work and commitment to quality care with these annual awards."
The "EMS Stewards of the Community" awards, took place at the Melbourne Hilton Rialto in Melbourne, and showed appreciation for emergency medical responders, emergency medical technicians, advanced emergency medical technicians, and paramedics who not only carry out the noble work of caring for others, but do so with a high degree of expertise, professionalism, and compassion. An internal committee of physicians and EMS Directors selected the award recipients among current providers in communities served by Steward. As part of National EMS Week, the hospitals also hosted on-site celebrations for the local EMS providers.