Spine Program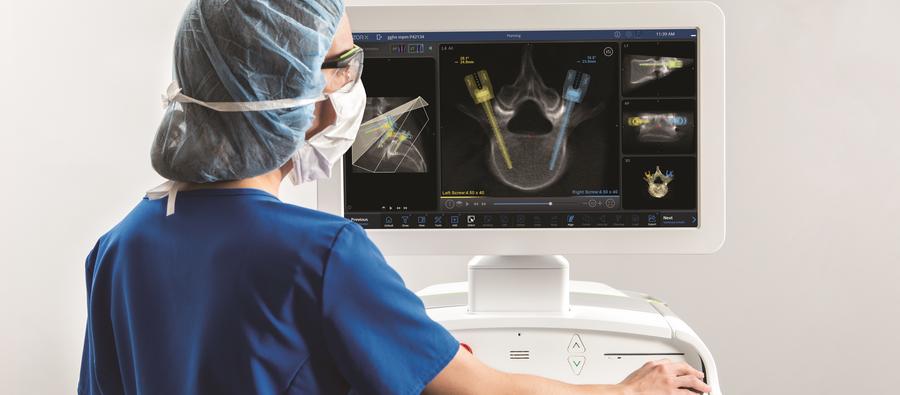 We are here to help you find what you need.
Our spine program provides advanced, coordinated care for conditions of the neck, back and spine. Our combined expertise in neurosurgery, physiatry (physical medicine), pain management, physical and occupational therapy, and nurse navigation ensures that patients are seen by the most appropriate specialist, right from the start.
Diagnosis and coordination of care for spine conditions can be challenging for patients and their primary care providers. At Melbourne Regional Medical Center, we streamline this process,with the most state-of the-art, robotic-assisted, minimally invasive spine surgery, including the first-in-the region Medtronic Mazor X™ Robotic Guidance Platform for Spine Surgery and the Medtronic O-armTM Surgical Imaging System, to reduce radiation exposure and time in surgery for patients.
Our Spine Coordinator works with providers and patients to coordinate treatment from referral through recovery. From the first visit, we collaborate with each patient to decide on the best treatment option. Often, this is not surgery. See below for examples of the range of treatments available.
We are proud to also be among the first nationally to offer the latest robotic surgical technology and 3D visibility to our patients, providing them enhanced surgical care.
Conditions
Back and neck pain
Arthritis of the spine
Failed back syndrome
Neuropathy
Nerve entrapment
Nerve injury
Vertebral compression fracture
Disc herniation
Fractured spine
Spinal tumors
Spinal stenosis
Treatments
Functional capacity evaluation
Physical conditioning and rehabilitative programs
Behavioral medicine components, including relaxation training, stress management and pain reduction training
Psychological interventions for depression and anxiety and pain-coping responses
Medication management
Spinal injection
Vertebroplasty/kyphoplasty
Diagnostic discography
Percutaneous discectomy
Spinal cord stimulation
Surgical decompression and discectomy
Spinal fusion and instrumentation
Medtronic Mazor X™ robotic guidance platform for minimally invasive surgery
Medtronic O-armTM provides enhanced 3D visibility and surgical feedback