Melbourne Regional, Steward Medical Group welcome Mark Davis, MD, groundbreaking surgeon, instructor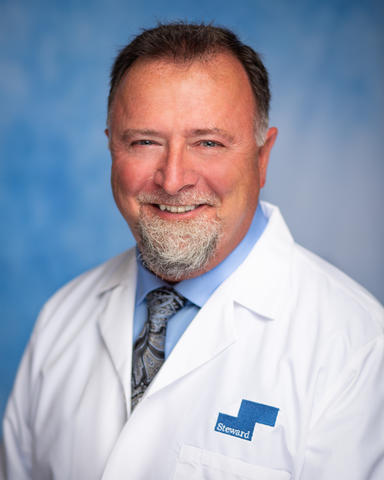 Melbourne, Florida (June 23, 2020) – Mark Davis, MD, is part of an elite team of orthopedic surgeons instrumental in bringing a partial knee-replacement procedure from Europe to the United States in 2004. Melbourne Regional Medical Center, a member of Steward Health Care, is welcoming Dr. Davis to its surgical team.
Surgeons outside the United States had been performing the Oxford partial knee replacement for 27 years but the procedure still hadn't received approval from the U.S. Food and Drug Administration (FDA). When the FDA finally gave this procedure the nod, a select group of surgeons traveled to England to learn it and transmit the knowledge back home. One of those surgeons was Dr. Davis, who has been instructing physicians on the procedure for 16 years.
"They (the FDA) needed instructors and I was already instructing people on minimally invasive techniques," Davis said. "So, I was invited as one of 13 surgeons from across the country to go to Oxford, learn how to do this surgical procedure and bring it back to the U.S. It's something I'm very proud of."
Earning his medical degree from the University of Iowa College of Medicine, Iowa City, Iowa, Dr. Davis completed an orthopedic residency at West Virginia University/Ruby Memorial Hospital in Morgantown, W.V. His joint replacement fellowship was at the Anderson Orthopaedic Research Institute in Arlington, Va.
Among Dr. Davis' specialties are joint replacement and adult joint reconstruction. "I take people who have arthritic knees or hips and help them cope with that condition, whether it's through surgery or through more conservative treatment," he said.
Educating others has long been a part of Dr. Davis' work. In 2010, he visited Amsterdam to instruct 250 physicians from 19 countries on a procedure that involves fashioning a mold of a patient's knee from an MRI or CT scan. The company that created the implant for this procedure contacted Dr. Davis to appear in its instructional video.
Melbourne Regional Medical Center started construction to expand their surgical suites in April 2020. Therefore, adding an experienced and talented orthopedic surgeon to the growing medical staff will help meet the surgical volume in Brevard County.  "The work Dr. Davis has done over the years truly is groundbreaking," said Ron Gicca, president of Melbourne Regional Medical Center. "It's a privilege to have a surgeon of his caliber on the team, and we welcome him."
Dr. Davis is now accepting new patients at his practice at 240 N. Wickham Road, Suite 108. Anyone wishing to schedule an appointment may call the practice at (321) 541-1777.