Wuesthoff Team Welcomes Akriti Dewanwala, MD, Specialist in Gastroenterology, Hepatology
August 8 2017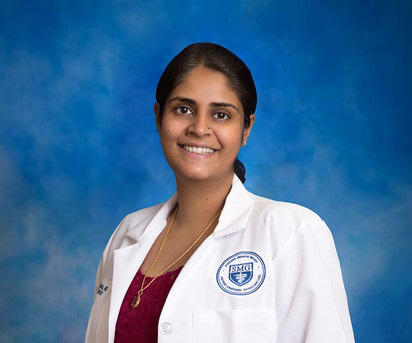 Media Contact
Eileen G. Bentley
(321) 255-8029
eileen.bentley@steward.org
For Immediate Release
August 7, 2017
Wuesthoff Team Welcomes Akriti Dewanwala, MD, Specialist in Gastroenterology, Hepatology
Childhood physician's gift of stethoscope prompted lifelong interest in medicine
Viera, Florida (August 7, 2017) – Wuesthoff Health System welcomes Akriti Dewanwala, MD, to its family of physicians. Dr. Dewanwala specializes in gastroenterology and hepatology.
After receiving her medical training at Maulana Azad Medical College in India, Dr. Dewanwala completed her residency and fellowship at the University of Buffalo-SUNY in Buffalo, NY.
Her practice focuses on the treatment and preventative strategies for such digestive disorders and conditions as Celiac disease, colon cancer, hepatitis and related liver problems, peptic ulcer disease, irritable bowel syndrome, reflux disease, inflammatory bowel disease and swallowing difficulties.
Dr. Dewanwala's interest in medicine extends back to her childhood in India, when she was going through an illness herself. The physician who treated her also gave her a stethoscope as a gift, something that had a deep emotional impact on her life. "From that moment on, I aspired to become the very person my family had admired and respected: a doctor," Dr. Dewanwala said. Gastroenterology and hepatology are fields of study related to digestive processes, including secretions of the liver, pancreas and other organs. These disciplines attracted Dr. Dewanwala because they entail a far-reaching range of activities beyond just office visits. "It was something I really liked," she said. "You
see patients in the office and you also conduct procedures that help those patients."  Dr. Dewanwala has received training in upper endoscopy, colonoscopy, small bowel capsule testing, flexible sigmoidoscopy, esophageal dilation, hemorrhoid removal, as well as several other treatments and diagnostic procedures.
She explained that the nature of digestive diseases often involves long-term care, which requires a commitment over time. "It's not just a quick office visit," Dr. Dewanwala said. "Very often, you might have to spend much more time and effort working with these patients."  An especially vital aspect to Dr. Dewanwala's practice is empathy, she said. "One of the most important things is listening well. It's not always about what you tell them, but also hearing about what they need," she said. "I also emphasize self-management skills, what the patients are doing for themselves as preventative measures."
Dr. Dewanwala's office phone is 321-255-8008.
###
About Wuesthoff Health System:
The Mission of Wuesthoff Health System: Everyone doing everything to pursue the perfect patient experience. Wuesthoff Health System includes Wuesthoff Medical Center-Rockledge and Wuesthoff Medical Center-Melbourne, both full acute care hospitals and Wuesthoff Health Services, a network of affiliates providing rehab services, wound care, laboratory services and assisted living. For more information on Wuesthoff Health System, visit www.wuesthoffrockledge.org.
About Steward Health Care:
Steward Health Care is a fully integrated national health care services organization committed to providing the highest quality of care in the communities where our patients live. Steward owns and operates 18 community hospitals across four states, serves over 800 communities, and has more than 23,000 employees. The Steward network includes more than 25 urgent care centers, 42 preferred skilled nursing facilities, substantial behavioral health offerings, and more than 3,700 beds under management. The innovative, community-based Steward Health Care Network includes more than 4,500 physicians who care for approximately 2 million patients annually. Steward Medical Group, the company's employed physician group, provides more than 1 million patient encounters per year and manages Steward Home Care and Hospice with 300,000 and 35,000 patient encounters respectively. Steward's unique health care service delivery model leverages technology and care coordination to keep patients healthier and in the community. Steward is recognized as one of the nation's leading accountable care organizations. Steward hospitals have received the country's top awards for quality and safety.
Additional information is available at www.steward.org.